The Two Mukhi Rudraksha is the symbol of Ardhanareeshwara, a joint image of Lord Shiva and Goddess Parvati as Shakti. It represents the unity of the divine feminine and masculine energies. It is believed that the bead brings balance and harmony to the mind, body, and soul of the wearer.
As per Shastra's :
।। द्विवक्तस्तु मुनिश्रेष्ठ अर्धनारीश्वरो भवेत् ।।
That is, O great Sage (Narad), the 2 Mukhi Rudraksha is Ardhanareeshwar.
Story of Ardhanareeshwar
The Two Mukhi Rudraksha is blessed by the Ardhnareeshwar form of Lord Shiva, representing Shiva and Shakti. According to the epics, a demon named Adi, assuming the form of Parvati tried to entice Shiva who realizing the ruse, killed him. However, the real Parvati, as she saw Shiva with another woman, became furious. Firstly, she cursed Nandi, Shiva's vehicle, who was supposed to have guarded and kept a watch so that no one enters her sanctum sanctorum. As a result of the curse, Nandi became a heartless cold stone forever.
Thereafter, Parvati, still in a great rage, tried to commit suicide but was stopped by Lord Brahma, who took away her dark form of anger and fierceness as incarnated in Goddess Kali. Then Parvati gained her poise and her golden complexion. She is known in this avatar as Gauri. Lord Brahma also blessed her saying "You and your husband shall be staying so close that you will melt into each other, becoming one person, and will be known as Ardhnareeshwar (half man, half woman). A mighty lion born of her rage became her new mount on which she would ride as Durga to fight against demons throughout the universe.
Shape and Size
The shape of Two Mukhi Rudrakshas from Nepal is flat, slightly tapered and the surface is smoother and hard. Its size may be up to 15 mm long and 10 mm in width and 8 mm thick. Rudraksha from Haridwar/Dehradun is oval in shape, has a rough surface and is of lighter density. It will be bigger, say up to 20 mm in length and with an average diameter of 15 mm. It has an oval shape with a slightly flatter look. There will be only one cavity.
The Indonesian Two Mukhi rudraksha is small, having a length of 10 mm and diameter of 5 mm to 6 mm, but it has a natural hole in it. Its density is also higher than the Haridwar variety and has a smooth surface. There are two seeds inside this bead compartment similar to the Nepal bead.
Properties
As per Padma Puran, this Rudraksha is also blessed by Fire God (Agni) and hence absolves the wearer from any type of sin. The wearer or worshipper is also known to get such benefits, which are normally attained through Yajnas and Homas or Agnihotra.
This Rudraksha is useful for good family life, good relationships with all people and to get married. It is believed to bring harmony and balance to the wearer. It brings unity like family unity in form, speech and meaning. The wearer's family finds the reverence and faith continuously increasing among themselves. The two Mukhi Rudraksha removes the differences of opinions and establishes unity between the teacher and pupil, the father and son, the husband and wife and friends. The wearer becomes capable of leading a peaceful and sacred family life. Choose a Nepal Two Mukhi, Indonesian Two Mukhi or Haridwar/Dehradun Two Mukhi in order of purity & preferences.
Benefits of Two Mukhi Rudraksha
In today's era where people have very less time for Homas or Yajnas due to busyness. Hence it is recommended to wear this Rudraksha to get the benefits of these rituals. Two Mukhi Rudraksha is known to boost self-confidence and arrest a fickle mind that wavers. Thus it is very useful for people seeking strong relationships that are stable and balanced.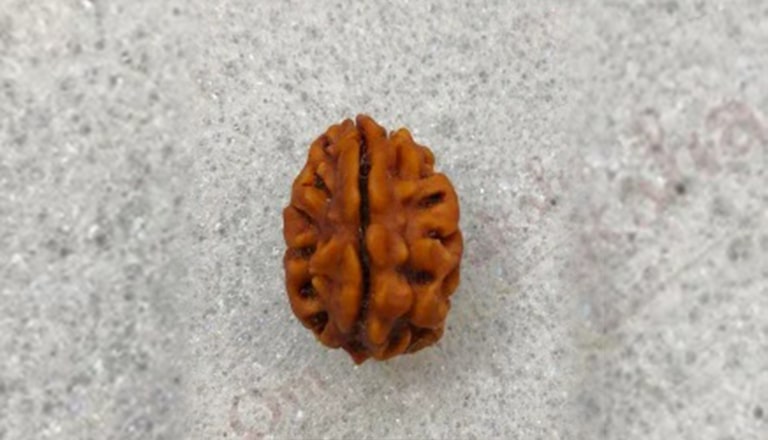 It bestows a balanced countenance, rids people of depression and helps them take the right decisions very promptly. Where a single 2 Mukhi Rudraksha is excellent to place in the house or place of worship for a harmonious relationship, a Moon Mala (2 Mukhi Mala) is good for Chandradosh Nivaran. Alternately a 2 Mukhi Rudraksha can be kept in the place of worship and Puja can be done during Pradosh as this is an auspicious time to seek blessings from Lord Shiva and Goddess Parvati.
Also read-: What are Rudraksha Beads and Where are they available?
Health Benefits of Two Mukhi Rudraksha
The Two Mukhi is considered to be good for sleep disorders. It is seen to be beneficial for people suffering from chronic cough and cold and issues related to the bronchial region. It is found to be useful in toning down phobias and other psychological issues.
Spiritual Benefits of Two Mukhi Rudraksha
The 2 Mukhi Rudraksha is also believed to be a powerful tool for spiritual growth and development. It is said to help the wearer to connect with their inner wisdom and to gain a deeper understanding of themselves and the world around them. It is also said to help with meditation and other spiritual practices, making it easier to achieve a state of inner peace and tranquility. It is effective in enhancing concentration and helps in channelizing the energy of Svadhisthana Chakra.
Who should wear
Those who are single and facing difficulty in getting the right match or those having relationship problems should wear this Rudraksha. Also, people seeking happiness and material gains as well as those spiritually inclined and aspiring for moksha should either wear it or worship it. It is also useful in begetting children.
The 2 Mukhi Rudraksha is typically worn as a necklace. It can also be worn as a pendant or as a bracelet. It is important to note that the bead should be worn close to the skin, as this is said to help to maximize its healing and spiritual properties.
How To Buy a Two Mukhi Rudraksha?
More than 90 percent of Rudraksha available in the market are found to be fakes/replica's. In such a situation, it is very important to keep in mind that the organisation/seller from where you purchase Rudraksha is reliable and gives you original Rudraksha beads.
Rudraksha offered by Rudralife are carefully selected and checked for its authenticity. Rudralife has established an ISO Certified laboratory to test all these beads at the time of purchase or sale. We conduct x-ray studies and several other tests to ensure not only that the beads are pure and authentic but to make sure that these are having inner power and hence efficacy.
Also read- What are Rudraksha Beads and Where are they available?