Lord Shiva is the supreme power as per the religious beliefs of Hindus. He is also known as Mahadeva, the great god, and is associated with many other aspects and forms, including the god of fertility and regeneration, and the god of meditation and yoga. To please Lord Shiva can be done in various ways like devotion, worship and specific rituals and practices.
Chanting the name of Lord Shiva
One way to please Lord Shiva is through devotion and devotion. This can be done by regularly reciting his mantras, such as "Om Namah Shivaya". Chanting the name of Shiva "Namah Shivaya" is a Panchakshari mantra, which finds mention in Rudradhyaye, which is a subdivision of Yajurved. When it is prefixed with the sacred syllable Om (Parma), it becomes Om Namah Shivaya, the six-letter Shadakshari mantra.
The spiritual meaning of this mantra is:
Na: The foremost deity of all the regions.
Ma: the bestower of supreme spiritual knowledge and destroyer of the greatest sins.
Shi: Benevolent, serene and responsible for the initiation by Lord Shiva.
Va: the representative of a bull as the vehicle and the Vasuki and Vamangi energies.
Ya: The auspicious abode of supreme bliss and Lord Shiva.
Usage of Om with the Panchakshari mantra is helpful in gaining energy to blend Sagun with Nirgun (manifest with unmanifest). Om chanting should be done with great devotion and patience. At many places, are forbidden from pronouncing Om. Instead, it is recommended that they chant only Namah Shivaya or Shri Namah Shivaya. We, however, do recommend women to prefix Om and recite it with full concentration.
Shiva Linga Puja
Another way to please Lord Shiva is through performing specific rituals and practices. One such practice is the "Shiva Linga Puja," which is the worship of Lord Shiva in the form of a Linga, which is a representation of his energy and power. This puja involves bathing the Linga with milk, yoghurt, honey, and water, and offering flowers and other items.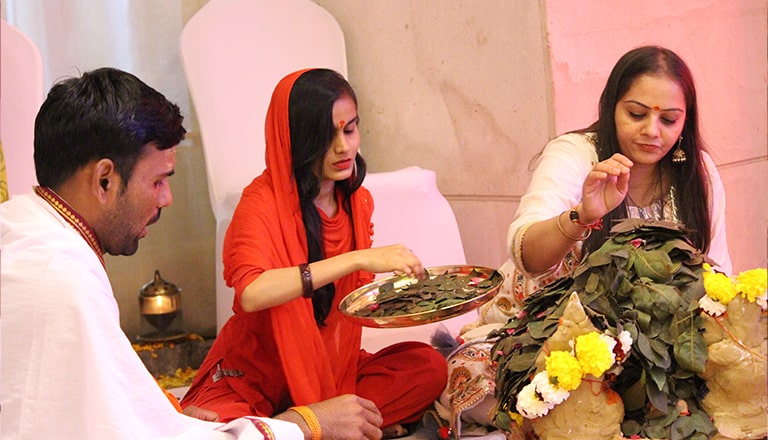 Abhishek
Performing "Abhishek", which is a ritual of pouring various liquids on the linga, can please Lord Shiva. The Sanskrit word Abhishek means sprinkling. This is a ritual in which the idols are given a sacred bath not only with water but also with honey, milk, turmeric etc. The idols are used to store cosmic energy and dissipate them. We know that energy transfer occurs when a potential difference exists.
In this case, the idols are the high-potential dissipaters and we (humans) are the low-potential absorbers. Water, being an electrolyte, transmits energy faster than air. Pouring water upon an energized deity releases powerful vibrations which we can receive more easily than from the air.
Similarly, different substances have the ability to release different vibrations when they come in contact with an energized object or deity. Many of these substances are edible, and each has a unique quality that heals or energizes a specific body part. The spent liquid is passed on to the devotees for them to drink or to apply on their heads and this is known as Teertham.
Rudrabhishek
Ritual bathing of Shivling, also known as Rudrabhishek, is the best way to please Mahadev. It pleases Lord Shiva because Shiva is an innately pleasing and quick giver of fruits and he is the giver of love, marriage, happiness, prosperity, power and knowledge. Rudrabhishek Yagya is the most important, biggest and popular religious-spiritual festival to please Lord Shiva, participating in this Abhishek gives an easy way to get rid of all the troubles of life. The materials used in the Abhishek have their own importance. Whatever Rudrabhishek is done with, that object is going to affect some area of ​​life with great depth.
Also read-: Top 10 Lord Shiva Temples in India that every devotee must visit once
Parikrama
Circumambulations (linga parikrama) are being offered to Lord Shiva. The path is like a half-moon. The channel, which runs towards the Moon from the base of the linga till the boundary of the temple, is called the som sutra. When circumambulating, one should begin on the left-hand side and continue till the channel of the Yoni from where the water is offered during the ritualistic bathing (Abhishek) flows. Without crossing it, one should complete a circumambulation by moving in the reverse direction up to the other side of the channel. This applies only if the Shivalinga is installed or created by men; it does not apply to a swayambhu linga (like jyotirlingas) or the Chal lingas kept in the house. The flow of the shalunka (yoni) is not crossed over as it is the flow of energy.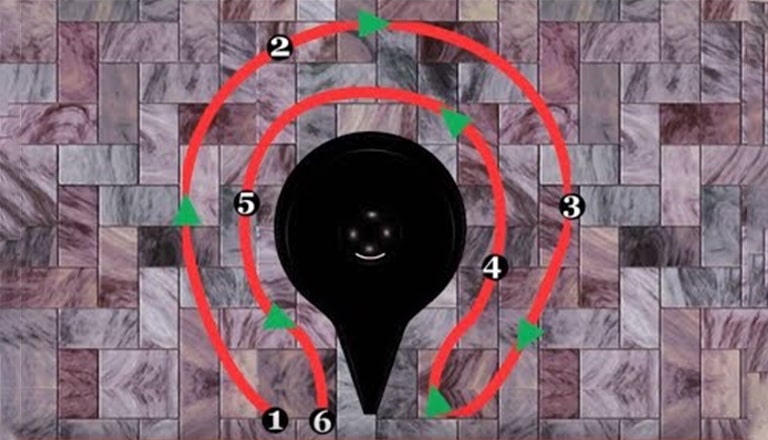 Rudraksha – The blessing of Lord Shiva for all of mankind
Wearing Rudraksha is also considered very auspicious to please Lord Shiva and get his blessings. Rudraksha is the divine natural gift of Mahadev for human welfare. Rudraksha is a Sanskrit word that is composed of Rudra + Aksha. Rudra is another name of Lord Shiva and Aksha means eyes. Thus, the word Rudraksha literally means 'the eyes of Lord Shiva'.
Wearing Rudraksha on the auspicious occasion of Mahashivaratri is considered even more auspicious. These are the Rudraksha beads which are blessed by Lord Shiva and are extremely auspicious to wear during Mahashivaratri.
1 Mukhi Rudraksha
As per the scriptures, The One Mukhi Rudraksha is Lord Shiva himself. It is said that it is beneficial for name, fame, growth, success and meditation.
2 Mukhi Rudraksha
The Two Mukhi Rudraksha is blessed by the Ardhanareeshwara, a joint image of Lord Shiva and Goddess Parvati as Shakti. It is believed that the bead brings balance and harmony to the mind, body, and soul of the wearer.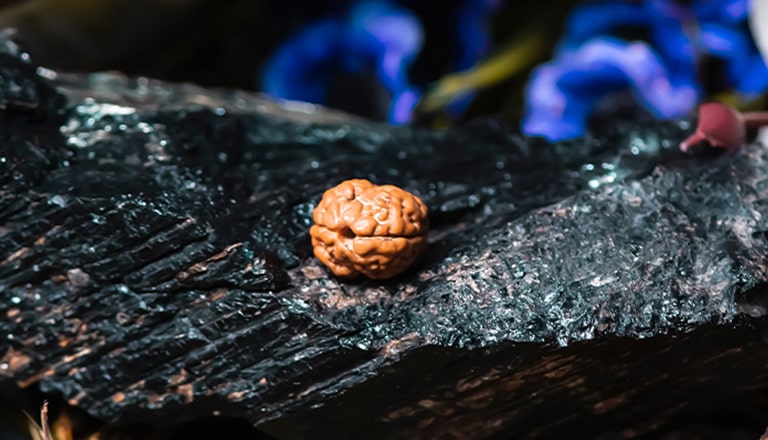 9 Mukhi Rudraksha
As per Padma Puran and Shrimad Devibhagwat, Lord Bhairav blesses this Rudraksha. As per Rudrakshajabalopanishad, there are nine powers in this Rudraksha. The wearer of Nine Mukhi Rudraksha becomes fearless and stress-free.
11 Mukhi Rudraksha
In Skand Puran, Lord Shiva says that 11 Mukhi Rudraksha is his own form of 11 Rudras. It is said that the wearer of 11 Mukhi Rudraksha becomes like Lord Shiva. This Rudraksha offers protection and a wearer can become fearless in life and gain prosperity. It is also good for meditation and the practice of yoga.
15 Mukhi Rudraksha
Fifteen Mukhi Rudraksha is blessed by Lord Shiva in his incarnation as Pashupati. It is believed that Fifteen Mukhi Rudraksha has all the virtues of 14 Mukhi Rudraksha and additionally offers luck in acquiring wealth.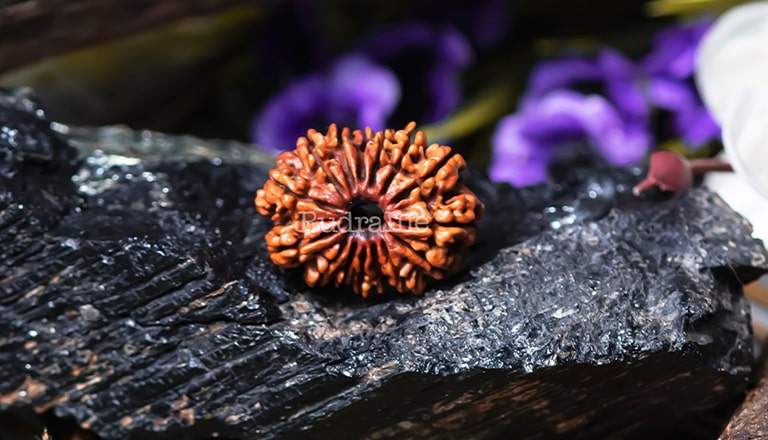 16 Mukhi Rudraksha
16 Mukhi Rudraksha is dedicated to Lord Ram and is also regarded as having the blessings of Mahakaal. It is said that the wearer of this bead experiences strengthened family bonds and draws respect, fame and victory. It is said that the wearer of Sixteen Mukhi Rudraksha treads the path of spirituality while fulfilling all their worldly responsibilities.
In conclusion, pleasing Lord Shiva can be done through a combination of devotion, worship, and performing specific rituals and practices. Additionally, leading a simple and ascetic lifestyle, practising yoga and meditation, and engaging in selfless service and charity can also please Lord Shiva.
Also read-: 2 Mukhi (Face) Rudraksha: Significance of Two Mukhi Rudraksha